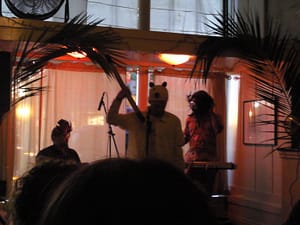 Pacha's Pajamas debuted at Pizzaiolo in Oakland tonight (Mother's Day), Sun. 8 May, with a hip, multi-generational, multi-cultural celebration of song, poetry, dance and wild animal calls from the audience. In attendance were ravens, lions and elephants, among others.
Aaron Ableman took to the mic to share an interactive, spoken-word performance of Pacha's Pajamas, the story of a young girl who dreams a dream of Earth's creatures coming together to hold the biggest celebration ever known, all in honor of Nature. Pacha, dressed as a guerrilla, joins in the festivities – the only human in attendance, unbeknownst to the other animals. According to the event page, the story "aims to facilitate popular discourse around Nature's Rights" and to "make environmental issues culturally relevant for urban youth."
Interspersed throughout Pacha's celebration this evening were the stories of earthly mothers and grandmothers who have planted their teachings in the hearts of their children and grandchildren. The tale of an old man who traveled the land collecting stories, carrying the weight of them on his back until, at the end of his life, he passed them on to a tree whose branches reached to the four corners of the earth. An East Oakland teacher at Futures Elementary, Kat Thompson, shared the challenges and triumphs of protesting the impending layoff of 100% of their staff due to budget cuts, and the need for a re-prioritization of what and who we value in our culture. Performers included: Esperanza Pallana of Pluck and Feather; Doria Robinson of Urban Tilth; Emily Teresa – a hip hop artist; Shilpa Jain of Other Worlds; and Debi Mason of Spoken Word Ministries.
The evening spurred a dance party, led by a youngster no older than two who was inspired by the grooves of an interpretive dancer playing Pacha. The story inspires young and old and crosses cultural boundaries to get to the heart of what matters.
Balance Edutainment is releasing the e-book of Pacha's Pajamas on the summer solstice, 2011.
To find out more, watch the trailer:
[youtube http://www.youtube.com/watch?v=gofJ15E_Q2Q&w=600&h=350]