Baby boomers are starting to retire and with that comes the  challenge of supporting their needs. When most of us think of our parents or grandparents aging, I'm guessing we picture them in a  suburban home or, eventually perhaps, a care facility just down the road. What if, like many young people today migrating to cities, our elders instead choose to see their retirement years out in an urban center?
This question and discussion arose last week when I attended the Mid-America Regional Council's Creating Sustainable Places Coordinating Committee meeting. After listening to several presentations by MARC and other area professionals, including Frank Lenk, Tom Gerend, Lawrence Andre, and Damon Daniel, break out groups discussed the implications changing metropolitan demographics might have for our communities.
An article from the Washington Post on August 9, 2013, provides some stats from Redfin showing that "more than a million baby boomers moved out of areas 40 to 80 miles from city centers." During this time period a similar number of individuals moved to within 5 miles of an urban center. It can't be determined whether these are in fact the same individuals, but other stats and testimonies suggest that wealthier baby boomers are finding residence in previously hipster city neighborhoods. In fact, Toll Brothers boasts that 75% of their Manhattan Gramercy Park condo buyers are boomers, according to the Washington Post article.
For many it seems the benefits of an urban life include being closer to restaurants, stores and other amenities, having access to public transportation that requires less driving, and living in diverse and energetic neighborhoods where retirement can be enjoyed while still feeling young and active. But what happens when age begins to necessitate amenities that may not already be built into cities consisting of primarily younger populations?
Larger cities like New York have a vast and well-oiled public transportation network, but smaller and upcoming cities, like Kansas City, are still working to build and improve upon the ways in which people get from point A to point B. It doesn't seem realistic or desirable for an elderly person who can no longer drive to sit at the bus stop on a 100 degree humid day only to then take an hour long ride to the grocery store or doctor's appointment. What's more, transportation does not always offer door-to-door service, necessitating a half mile or longer walk to reach the final destination. To assist the elderly and disabled in accessing resources, some cities utilize dedicated transport vehicles for these individuals. Such services may also not be ideal depending on the wait time for a pick up, which I've known, even in a large city like Oakland, to take several hours or more.
What other built environment features might be applied to a metropolitan area to support access to resources by those who might not otherwise be able to, including not just the elderly and disabled, but those of lower income?
Transportation Waiting Areas & Time Displays
Transportation with air conditioned and heated waiting areas, adequate seating, restrooms, and water fountains may not be realistic for every city, but for those with the space and finances, providing this level of comfort can make traveling easier on the elderly and young children.
Providing digital displays at bus and train stops showing the estimated arrival time for the next several buses or trains, and providing the information via a user-friendly telephone service, website, and app are perhaps more affordable ways to ensure that those who are unable to wait for long periods at the bus stop can plan their travel more efficiently.
Mixed Use Neighborhoods
The creation of mixed use neighborhoods is growing in popularity as a way to put people in close proximity to services in order to create vibrant and diverse communities. Mixed use neighborhoods mimic small towns by providing amenities within a short radius from where people in the community work and live. Such amenities may include grocery stores beneath apartments or business offices, cleaners, supply stores, restaurants, post offices, and doctors offices. Such neighborhoods reduce the need for travel by motor vehicles, thereby reducing pollution, unclogging roadways, encouraging exercise, and facilitating community interaction.
Pedestrian friendly roadways, sidewalks and intersections
For seniors, having local availability of everyday facilities and services can help to ensure access. Yet even for individuals who are mobile enough to walk or bike, hearing and eyesight can degrade as we age necessitating a focus on safety and the creation of pedestrian friendly neighborhoods. Portland is one example of a city that has reclaimed the streets from motor vehicles in the name of pedestrian safety and greater community interaction. A local Portland organization, City Repair, started mural painting street intersections in the 1990's. Residents claim the murals instantly impact the flow of traffic through their intersection, with cars slowing greatly in speed and with neighbors coming outdoors to congregate in and around the street. For locales with snow and ice, large flashing crosswalk lights, foldable signs or tall round planters in the middle of the road at a crosswalk, and speed bumps can help to slow vehicles and designate pedestrian right-of-way. Publicizing on local news ticketing laws for motorists not stopping for a pedestrian at a crosswalk and then enforcing the law (assuming it exists) can begin to turn a car dominant culture into one that is more pedestrian friendly.
Widening sidewalks to more easily accommodate wheelchairs and those with walkers and providing wide bike pathways can help distance individuals from traffic and increase safety. In the neighborhood directly to the West of the KU Med Center in Kansas City I have often seen people in motorized wheelchairs riding in the street due to a lack of proper sidewalk access. And, as a result of construction along Rainbow at 39th, I have seen an entire section of sidewalk closed down, with no alternative route provided. In the same area, a company displayed a large sign on the corner of Rainbow and 40th, blocking the sidewalk entirely. Such instances reduce safety and could increase the risk of traffic accidents involving pedestrians as a result of reduced visibility and access. In city construction zones it is particularly necessary to provide alternate, safe routes for pedestrians.
Food Delivery Services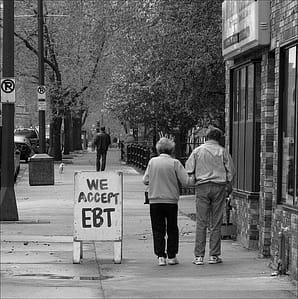 In an era of the CSA (Community Supported Agriculture) in which it has become trendy to get a box of farm-fresh produce, meats, and dairy home delivered or available for pick-up, it is not so far-fetched to consider that such a service may become increasingly relevant for wealthier, elderly citizens who choose to relocate to the city. But not everyone can afford a CSA box or have the ability to prepare what is provided. To support these individuals, cities and local organizations can look to several options already in operation across the country.
The city of Philadelphia has one of the largest senior populations in the United States. Accessing and preparing food can be a problem for those on a fixed income or who lack mobility. Several programs in Philadelphia are working to extinguish senior hunger, as outlined in the "Food, Seniors, and Service" article from the December 2011 Mayor's Commission on Aging. Some of these services include Meals on Wheels, which delivers frozen or hot meals directly to the home, Grow for a Friend, which builds raised beds at senior centers and housing complexes, and grocery shopping support, which assists seniors in obtaining food from the supermarket through van transport. In many cases meals that are delivered to senior's homes are free. Local community gardens may also partner with organizations to provide a portion of their harvest to seniors and others who lack access to fresh food.
***
Lastly, boomers who move to more urban areas appear to be wealthier, which can lead to gentrification with increased property values and rent prices. To support diversity and equitable access for all groups of people, including those who may already have been living and building a life in a particular neighborhood, it is important that cities consider policies that enable varying housing options with different levels of affordability to be available. Access means nothing and a mixed use neighborhood cannot thrive without an accompanying effort to make housing and services affordable to those who live there.
See the 10 U.S. cities with the largest populations of boomers.